What Is The Difference Between A Commis Chef and Chef De Partie?
An Insight To Workshops And Log Books For Commis Chef and Chef De Partie
Learners will participate in workshops (which are held in the cookery school), which will give them the opportunity to increase their knowledge and skills of the culinary sector. In addition to updating their recipe log books, and being challenged on their culinary knowledge.
The Chefs will have 1:1 sessions with their development coach to guide and support their completion of learning activities, which also include functional skills.
The knowledge and skills covered for the Commis Chef/Chef De Partie include:
Industry principles
Equipment and safety procedures
Common Knives and kitchen equipment
Technology
Personal Hygiene practices
Food Safety legislation
What Are The Benefits To Starting Commis Chef and Chef De Partie?
The qualification is a nationally recognised standard
Could lead to a promotion
Gives learners a chance to learn new skills
It improves job security
Allows any potential learners to achieve their full potential
Builds confidence
Leads to an increase in professional development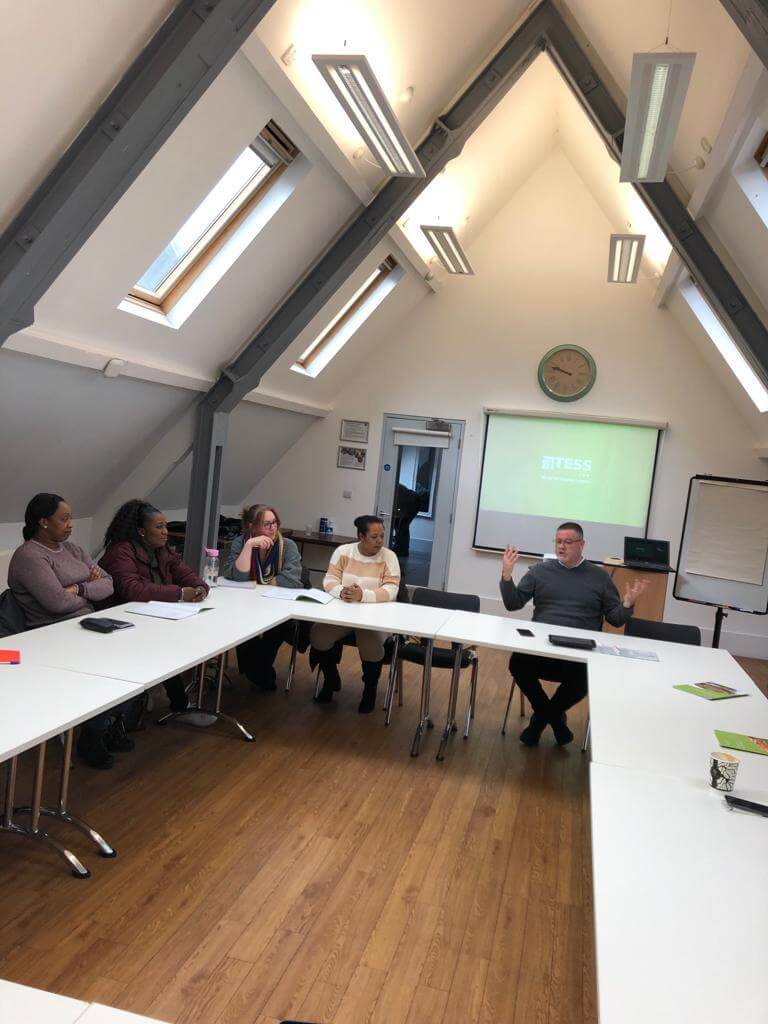 Commis Chef
A Commis Chef learns all the basic skills and methods of how the kitchen is run, during the workshops, learners are taught many methods of how different food groups are cooked as well as the number of preparation methods.
There are 6/7 practicals in total. This includes cooking with: (this goes for both Commis Chef/Chef De Partie)
Vegetables and Vegetable proteins
Poultry and Game
Meat and Offal
Fish and shellfish
Pastry x2
Soup
Stock
Rice and bread
The use of knife skills
These workshops run from 9am – 5pm. And requires a fully cleaned chefs uniform. It is also optional for the learners to bring their own knives.
The few of many things they will learn such as the kind of knowledge and skills they will execute during their workshops include:
Preparation methods for vegetables including washing, peeling, chopping, slicing, trimming, grating, turning.
Finishing methods for all food groups including resting, garnishing, adding sauce, glazing, gratinating, piping, filling, decorating, dusting, dredging, decorating.
Traditional cuts of meat and poultry.
Check food stocks, report on shortages, prioritise food that is close to expiry and keep the storage areas in good order.
Complete preparation and cooking tasks to a high standard, delivered on time and presented as described within the recipe specification.
Chef De Partie
Chef De Partie is very similar to what Commis chefs learn, however that is more of a starting point for chefs. Unlike a Commis Chef, this apprenticeship is more complex in terms of cooking and preparation methods. It is a more advanced programme for people who want to refine their skills in the culinary sector.
Here is the difference in what is covered in the recipe log books: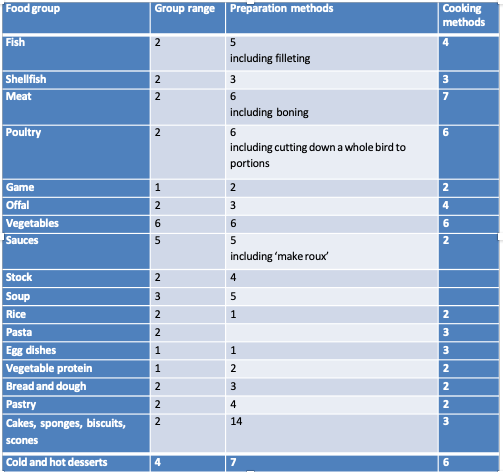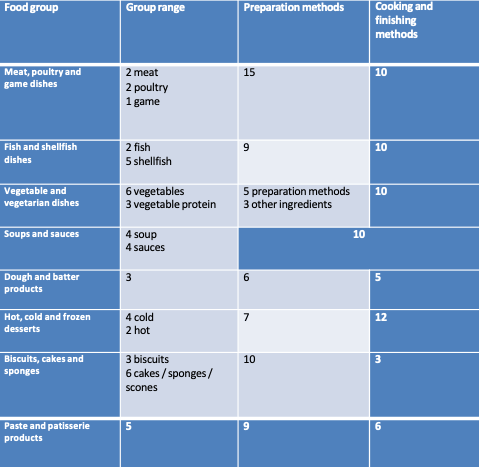 Skills
A few of the many skills and knowledge the apprentices will gain from this programme include:
How industry and food trends, customer preferences, seasonality, provenance and global environmental factors influence the development of dishes and menus.
What to look for in ingredients and how to handle and store them to maintain quality, in line with food safety legislation
Advanced cooking methods for meat, poultry, game and offal dishes and menu items, or a variety of basic methods combined in a complex manner, including searing, grilling, griddling, frying (deep, shallow, sauté and stir), braising, stewing, baking, roasting, pot roasting, steaming, boiling, poaching, bain-marie, sous-vide, en papillote, spatchcock, smoking, confit, combination
Use a range of advanced preparation and cooking skills and techniques to prepare, cook and finish complex dishes and menu items in line with business requirements (including all types of food covered over each workshop).
Off The Job
Off the job is learning which is undertaken outside of the normal day-today working environment and leads towards the achievement of an apprenticeship. Learners must complete their off the job which is 20% of their apprenticeship hours.
Progression Routes For Commis Chef and Chef De Partie
EPA (End Point Assessment)
At the end of the learner's Apprenticeship they will have to complete their EPA. This will consist of 4 areas: (the duration depends on which apprenticeship the learner is doing)
On demand test – A multiple choice exam based on what they've learnt.
Practical observation – They will be scrutinised based on their cooking skills, health and safety precautions, and cooking/preparation methods.
Culinary Challenge – Learners will be given a chance to cook whatever they like on their menu within a time limit.
Professional Discussion – The end assessor goes over what has been produced in the learners log book and the skills acquired.
A Commis Chef's role is to focus on one station in the kitchen. They can advance to become a Chef De Partie and become an assistant to the head chef of the kitchen brigade.
On the other hand, Chef De Partie can progress to being promoted for a Sous Chef who is in control of the whole kitchen, as they are given the skills to create new dishes and always deliver food that is high in quality.
Why Choose This Apprenticeship
The Tess group offer an exceptional apprenticeship for both roles. This gives learners an opportunity to enhance the skills they already have, and gain new expertise to help them progress in their career.
We give our learners all the support they need in helping them complete the apprenticeship and do our best to make sure they have the best possible experience.
If you're interested get in contact with us below.
We aren't a massive fan of the expression 'one stop shop' but it does get across the point that we can deliver to all parts and all areas of your business! Thus saving you time, effort and money.
No tick boxes in sight! We actually train, coach and develop the people. We can even deliver modules remotely for anyone on the move. We use the best quality partners from BKSB to Onefile to help us pinpoint and differentiate our learning for each person. Learners can work on Smartphones, IPads, Laptops plus Employers can log in and check learner's progress.
Did we point out we deliver world-class training and development? This is why most levy payers are interested in us as we can complement and connect the levy to the business need and help demonstrate and show real ROI.
If you have people development needs, get in touch today. 
Get in touch and complete the form below, we would love to hear from you!
What Is The Difference Between A Commis Chef and Chef De Partie?